EEverything in the Universe is energy and many things can be changed with energy. Every person, every thought, every emotion is energy. Our energy fields and systems are alive and intelligent.
The auras, chakras and energy systems of anyone can become blocked, distorted, clogged up, and torn. Magnetic connections in auras, chakras and energy systems, such as the meridian system can become broken and damaged.
Energy fields can be cleansed, balanced, normalized and healed. Energy healing is a process that I use to do exactly that, to cleanse, balance, normalize and heal. 
Human thought is followed by action, and action is energy. Emotions can be described as energy actions. Energy healing can affect the energetic, physical, emotional, spiritual and intellectual aspects of a person.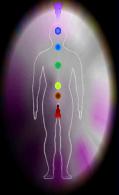 On the basis of knowledge and personal experience in relation to the human energy field, traditionally called the aura, Mr. Remigiusz Bisch of Brzeg Dolny in Poland has organized a group of people interested in the energetic side of man and created the International Association of Auric.

On his initiative, this very interesting topic was taken by Life Improvement Institute and at the end of 2015, the Association has been adopted into organizational structure of this Limited Liability Company of Delaware as an independent European division.
Since that time, officially registered International Association Aura acts as an independent European division based in Brzeg Dolny, district of Dolnoslaskie - Poland, under supervision of its President, Mr Remi Bisch.
Contact: +48 693 396 578 aura@remedium.us